Retro Style Engagement Rings: How to Get the Look
Retro style engagement rings and cocktail rings have a distinctive look. Gold mountings, diamond baguettes, colored gems and invisible settings are just some of its design elements. Here's how you can re-create a striking classic.
The Retro era spanned approximately 1935 to the 1950s, a period that included the Great Depression and World War II. It had its roots firmly planted in the Art Deco era that came before. Jewelry designers took Art Deco's bold lines and geometric shapes and softened them with curves, creating pieces that had a sculptural quality. Gold was usually the metal of choice, as platinum was reserved for wartime uses. Jewelry designers also used vivid color combinations of rubies, sapphires and emeralds; as the Retro era moved farther away from Art Deco, they incorporated more muted colors with stones like topaz, citrine, green beryl and aquamarine.
Finding authentic vintage engagement rings from the Retro era can be challenging. The ravages of war destroyed many jewelry businesses and their inventories. During the war years, jewelry designs became simpler and lighter weight to reduce the amount of metal used and to keep items affordable. Countless pieces around the world were broken up and the materials repurposed once hostilities ended.
Jewelers devised ingenious ways to adapt to these challenges. One innovation was to alloy a low karat gold with a higher percentage of copper. The result was gold with an attractive reddish tinge. Chains that were hollow (instead of solid) and the use of large, inexpensive stones were other techniques in this time of scarcity. This allowed jewelers to create a big look for less money.
Diamonds in engagement rings of the Retro era were small; in addition to the war sapping resources and interrupting gemstone supply lines, enlisted men had scant disposable income for jewelry. The illusion setting and white gold detailing were ways jewelers made smaller stones look larger.
If engagement rings of the period were modest, cocktail rings of the same era were exuberant and showy. Popularized during Prohibition (1920 to 1933), cocktail rings were a symbol that one was proudly flouting the law against drinking alcohol. The signature of the design – large and flashy – remained largely unchanged as styles evolved during the Retro period. Cylinders, scrolls, fans, prisms and asymmetry were common stylistic motifs. Red and yellow gold were the metals of choice; again, because of the demands of the defense industry, platinum made an appearance only occasionally.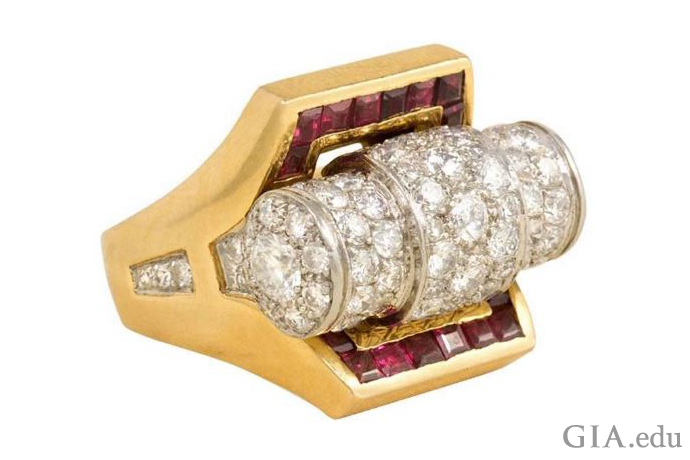 Considering the challenges Retro-era jewelers faced when making engagement rings, your search for vintage engagement rings just might lead you to create your own by using design motifs from the period and finding inspiration in cocktail rings.
Here are some of the signature design elements to help you get that Retro style.
Retro Style Engagement Rings: Go Sculptural
Retro designers took the sharp angular lines of Art Deco jewelry and reimagined them with curved edges. Geometric shapes also went from having a two-dimensional look in Art Deco jewelry to a three-dimensional look in the Retro era. This gave the jewelry a chunky, sculptural quality. Current events and the spirit of the times also influenced jewelry designers. The machine age was at its height and WW II left its mark. Gears, cylinders, and all types of mechanical objects became the inspiration for bold new designs. Links resembled tank treads, and chain resembled gas pipe.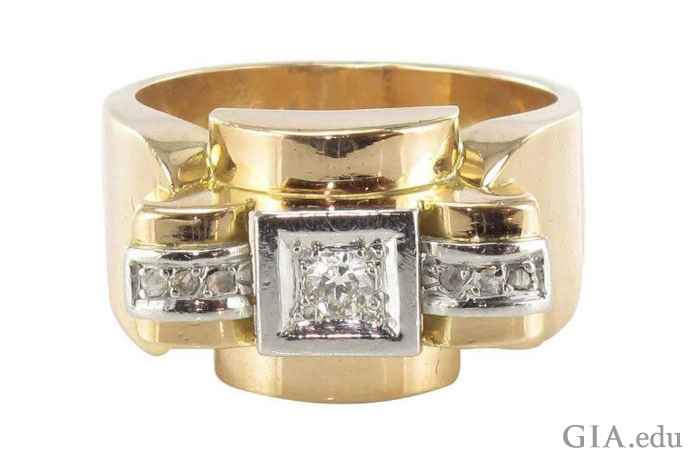 Retro Style Engagement Rings: Embrace Bold Colors
As noted above, bold color combinations were common in early Retro jewelry. Rubies, sapphires and emeralds were favorite choices as styles transitioned from Art Deco. Gems with more muted colors like topaz, citrine, green beryl and aquamarine eventually became popular. So adding colored gemstones can be one way to infuse your engagement ring with Retro style.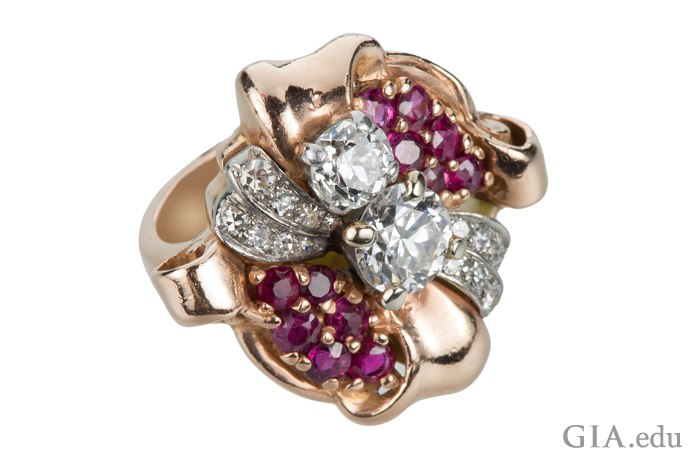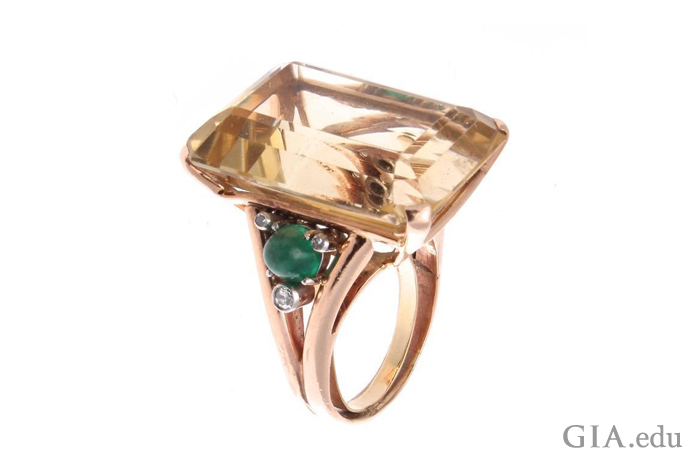 Retro Style Engagement Rings: Warm it up with Yellow or Rose Gold
During World War II, platinum was in high demand by defense manufacturers because of its malleability, resistance to acids and high melting point. They used it to make tubes, fuses, sparkplugs and explosives for the war effort. So jewelers turned to gold, which became the predominant metal of vintage engagement rings of the Retro era.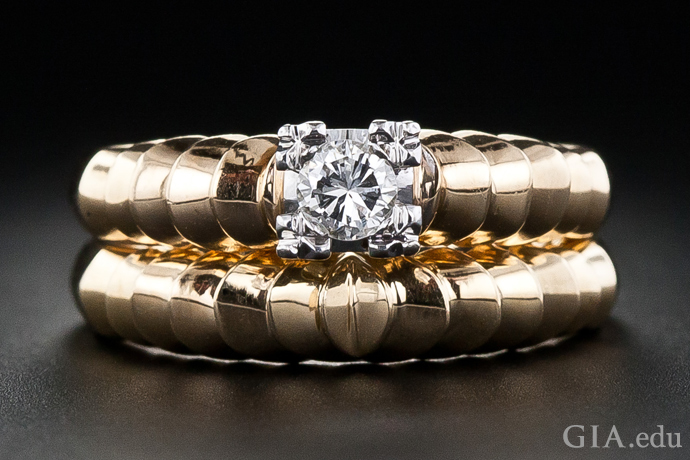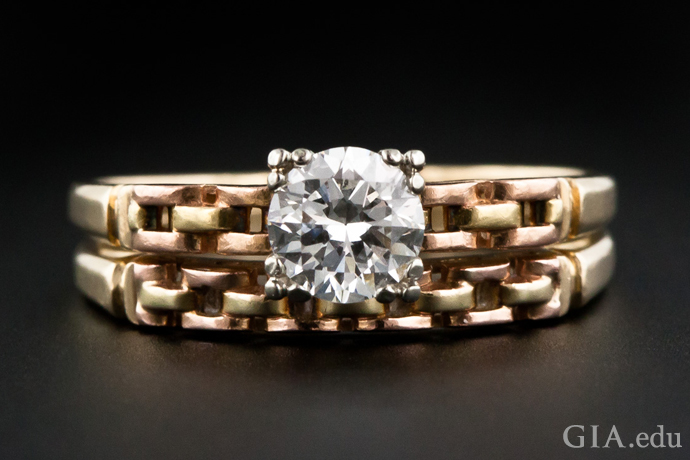 Wartime restrictions on metals forced jewelers to be inventive. They had to use low-karat gold, and often alloyed it with greater amounts of copper, creating a metal with an appealing reddish hue. The warm and beautiful hues of rose gold are now popular in contemporary engagement rings. Other alloys created other colors of gold, which were often mixed in a single piece of jewelry.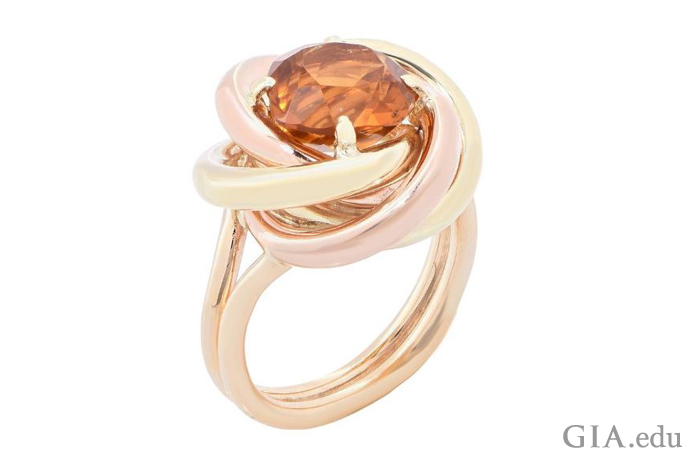 Retro Style Engagement Rings: Popular Settings
The illusion setting mentioned above was popular with wartime brides and grooms because it made the center stone appear larger. These settings are still very popular and can be an easy way to get the Retro style.
The star setting – placing a gem in the center of an engraved star – was another recurring motif in Retro-era jewelry. Perhaps the imagery offered the wearer an escape to a kinder realm, far away from the travails of the time. It's a motif that can be carried to wedding bands to complement a Retro-style look.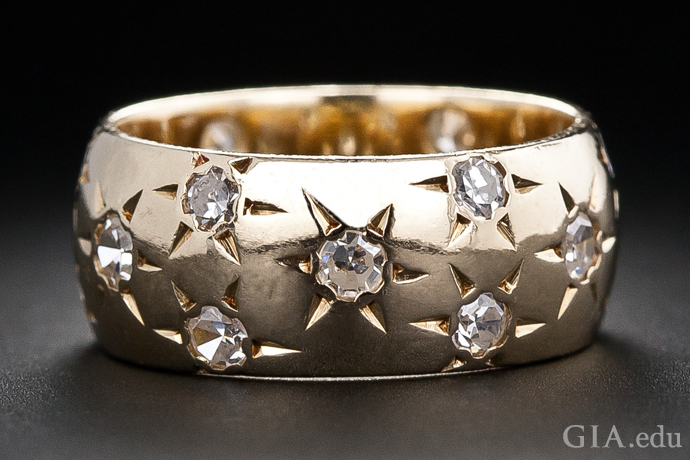 Also popular during the Retro era was the invisible, or "mystery," setting. Patented by Van Cleef & Arpels in the 1930s, this technique results in no visible metal around the gemstones. Special grooves are cut into the gems below the 
girdle
, and the gems are held in place using metal rails that fit into these grooves.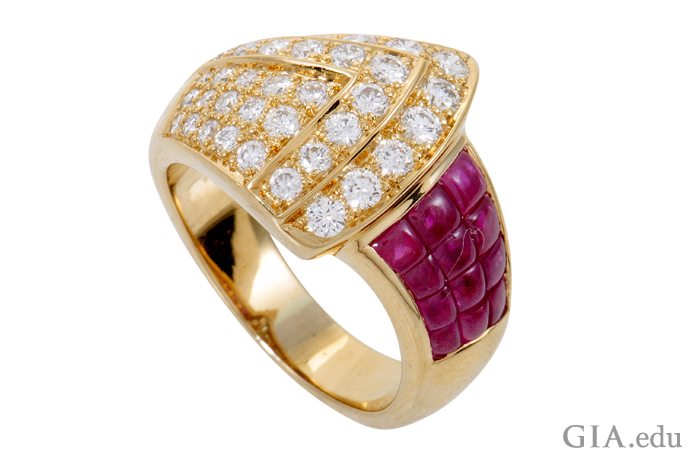 Retro Style Engagement Rings: Add Baguettes to Complete the Retro Look
Rectangular step-cut diamonds (called baguettes) were often seen in Retro-era jewelry. Used as side stones and as design elements, baguettes created an elegant and sophisticated look.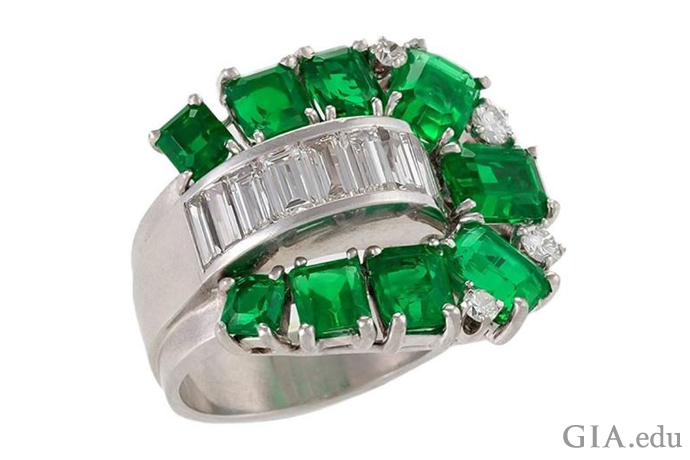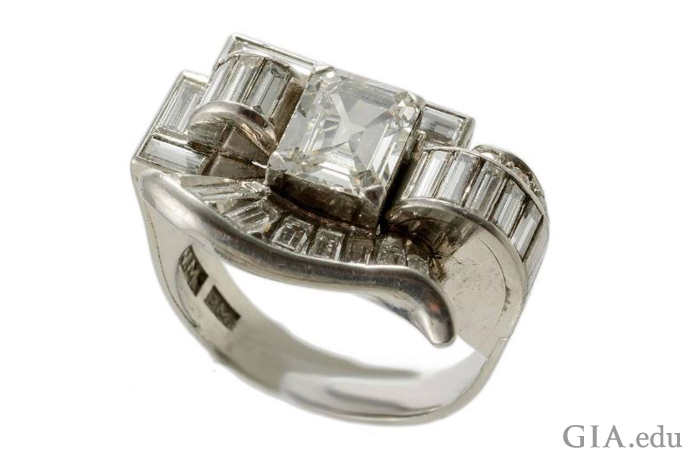 The Retro era gave birth to a dazzling variety of ring designs, so there's no shortage of inspiration waiting for you. Once you've settled on your own design, you'll probably want to start shopping for a diamond. Before you begin, be sure you know your 4Cs of Diamond Quality: 
color
, 
clarity
, 
cut
 and 
carat weight
.